Plant Maintenance Services
Throughout the years we have grown to a full service turnkey operation for the petroleum industry, from complete fueling facility installations, new construction and modification of petroleum bulk plants to 24-hour emergency service.
Routine/Daily Maintenance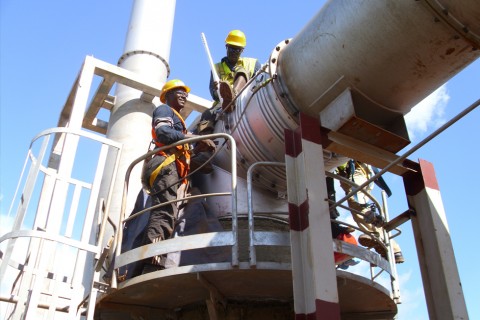 Total Integrated Plant Maintenance
PT. GARUDA MAS KEPRI has comprehensive capabilities to undertake plant maintenance responsibilities in the refineries, petrochemical/chemical complexes, pharmaceutical and the power/utilities plants.
Our core competencies covering mechanical, E & I and civil/buildings, refractory works, insulation works, blasting/painting works, scaffolding services coupled with our in-house engineering capabilities position us well to provide plant maintenance services including:
Routine/Daily Maintenance
Essentially a requirement to keep the plant in good running condition on a routine basis without affecting the operations. Scope would entails repair/replacement of gaskets, valves, piping, tanks, vessels, heat exchanger (retubing) and furnace (tube bundle works). In general, a dedicated team is assigned on site to work with the plant operators to carry out the tasks.
Total Integrated Plant Mantenance
This service offers the plant owners/operators the complete maintenance coverage where we undertake the planning and management of the maintenance programs for the plant. It would cover engineering, procurement of needed supplies/equipment, cost budgeting and project management of all maintenance activities. The maintenance functions are totally outsourced by the plant owners allowing them to focus on the other higher value added aspect of the plant operations thus ensuring efficient use of resources.
Turnaround Maintenance
Requires temporary shutdown of the plant and usually done on a planned basis. Usually involves cleaning/up keeping of the plant and maintaining equipment that cannot be serviced during normal operation, and debottlenecking projects.